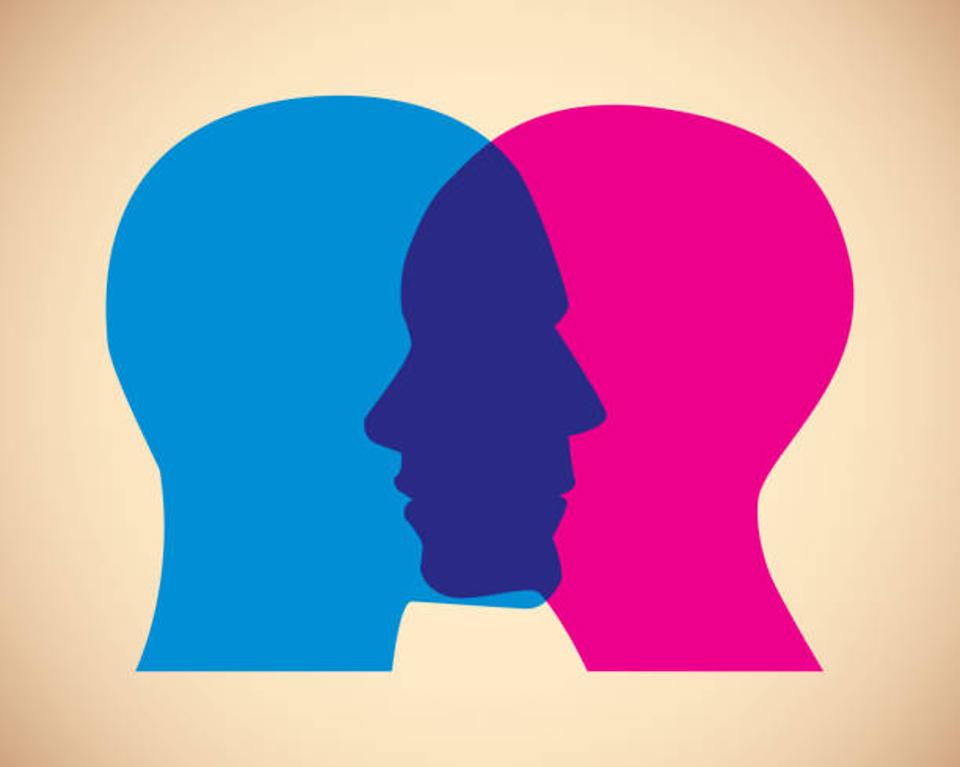 With all the negativity, nastiness and name-calling in public discourse these days, it's refreshing to see so many people focusing on how we can truly understand one another better and come closer to appreciating each other's experiences. Companies are working hard to help their people relate, and where they can't truly identify with someone else's experience, at least acknowledge those differences with respect.
In 1993, Yale professor Stephen Carter, in his book, The Culture of Disbelief, wrote, "I want to live in a country that doesn't just tolerate my faith, but respects it." Twenty-six years later, that theme is being applied not just to faith, but to all aspects of our humanity. Most of our institutions, particularly in the corporate world, seek not just for diversity, but for inclusion. Diversity is about numbers; inclusion is about understanding.
Madhumita "Mita" Mallick and Glenn Racioppi are a "gender partnership" at Unilever. A "gender partnership" isn't a new form of marriage. It's simply a pairing of people of different genders who can talk to each other openly about issues of gender inequality at work. Their respective paths and collective efforts provide lessons for all of us.
Mallick has been leading Diversity & Inclusion (D&I) efforts at Unilever North America for more than three years. Her goal is to make sure all voices are heard or represented – no small task in a company with 155,000 employees across the globe.
For seven years, Racioppi has been a brand manager for the company. He crossed paths with Mallick a few years ago when he started Unilever's "Men as Allies" (UMAA) group. After participating in a D&I training, he and other men at Unilever were intrigued by the increased awareness it created for them and wanted to extend the learning and the dialogue. They wanted a training event that would promote an on-going pattern of growth. He found senior leadership welcoming of the idea and had no shortage of senior executives willing to sponsor UMAA events and discussions.
"Our UMAA meetings give men a safe place to discuss gender issues, ask questions, admit blind spots, learn how to identify inequality in the workplace and be more supportive of the women we work with," Racioppi says. In conversations with Mallick, he quickly determined that UMAA should be a sub-group within her Women's Business Resource Group, which goes by the name "Galvanize." Since then, Mallick and Racioppi have worked together to help Unilever foster understanding, openness and, ultimately, responsibility.
Mallick focuses on getting Unilever employees to stand up for each other when they see issues of inequality. Although the focus is borne from a discussion of gender inequality, the heightened awareness helps people recognize many types of inequality.
"Let's say you're in a meeting and you hear someone make a comment that you think puts someone else at a disadvantage because of their race, gender or any attribute unrelated to their ability or experience," Mallick says. "You should feel comfortable speaking out in the moment or pulling the offending person aside afterward and addressing the issue." She added, "Most of the time, people don't intend to offend or discriminate. Helping others see the difference between their intent and their impact broadens the learning for the entire organization."
Here's a simple example. You're in a meeting discussing candidates for a new role that will require travel or, possibly, relocating. Someone mentions "Jesse" as an option. "Dana" says, "Jesse just had another kid. I don't think they'd be interested." And the conversation moves on. Jesse is no longer considered for the opportunity based on Dana's assumption of Jesse's position. Not giving Jesse the option to weigh the pros and cons of the new role is simply bad management. The inequality arises when Dana's reaction would differ based on whether Jesse is a man or a woman. Unilever wants others at the table to feel comfortable asking Dana, in the moment, "What's that assessment based on?" or "Why don't we ask Jesse before making that assumption?" Asking questions that challenge assumptions in the moment can help us all acknowledge and start to minimize our blind spots.
"You can't effectively address inequality in the workplace just through your Human Resources department," Mallick says. "HR can't always be the cops. By the time an incident is reported to HR, it might be too late." Unilever wants each employee to feel responsible for standing up for others when they see a lack of fairness.
"I experienced this first-hand early in my career, long before I got to Unilever," Mallick said. "I was very junior in my role, and one of few people of color working in my group. My manager couldn't pronounce 'Madhumita.' Even when I offered that he could just call me 'Mita' he deferred. He thought it would be cute to just call me 'Mohammed,' which he did consistently throughout my time at that company, both when we spoke one-on-one and in group settings. Starting as early as grade school, I had asked people to just call me 'Mita' instead of my full name. I felt that was enough of a sacrifice. Being called by a wholly different name was demeaning, whether he had chosen 'Mohammed,' 'Mahatma' or 'Murphy.' I wanted to respond, 'Not my name!' every time, but didn't because of my youth and position in the company. But more striking to me was that no one else in the company stepped up and highlighted for the manager that his decision to call me by a nickname of his own choosing was inappropriate."
Mallick hopes to use Galvanized to promote a culture where that doesn't happen. In a strong statement of support for the work of Galvanized and UMAA, this fall, Unilever is sponsoring the Better Man Conference (BMC). Started a few years ago by Ray Arata, a noted author and speaker on gender inequality issues, the BMC brings together speakers and leaders for day-long events that are part workshop, part discussion forum, part community building. Although the focus is for white men to understand the paths and perspectives of women and of men of color, everyone is welcome to the conversation.
"By sponsoring this event in our offices, we'll make it easy for our team and professionals at nearby companies to participate," Mallick said. "It's a great opportunity to engage in a discussion, and they take care to foster openness. The BMC team does an excellent job making sure the tone isn't preachy or scolding. It's all about understanding."
Which gets us back to gender partnerships. Mallick and Racioppi are working to create 50 pairings of Unilever professionals of different genders who can talk openly about their work experience. The relationships need to be organic, meaning participants will have a say regarding their partner. The conversations will be guided and structured. Mallick and her team will provide guidelines for how the conversations can happen safely and productively. The goal is understanding and respect.
Here are three ways you can use what Unilever has done to promote openness and understanding in your work environment.
Leverage training events to facilitate on-going conversations.
Encourage everyone to stand up for each other – politely, appropriately and proactively.
Leverage broader initiatives like the Better Man Conference to bring the outside voice in.
All in all, use your company's voice to add balance to the current public debate.
Originally published on Forbes.com.