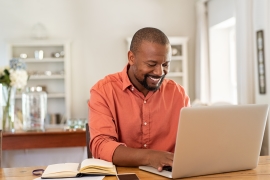 I hope this blog post finds you well.
Words that, at best, do nothing to improve professional relationships, and at worst, are looked at with an eye roll. So unimaginative, so impersonal. Feigning caring without actually taking the time. How can you build rapport and strengthen relationships with your email openings and signoffs? This is especially important to consider in a remote environment. The email you're sending may be your only contact with that colleague, client, or stakeholder. Here are some quick tips to consider:
1. Include what the other person needs to hear, not just what you need to say.
Focus on the communication style of your recipient. Are they someone who benefits from an extra bit of conversation? You may want to include more personal back-and-forth to build and keep the relationship strong. Or, do they want you to get right to the point and skip the 'fluff'? After you've drafted your email, read it again to make sure you've hit the right tone for your reader.
2. Make it personal without going too far.
In the first couple of sentences, ask about their hobbies, family, or a recent trip – if you have that kind of relationship. If it's been a while since you've spoken, say that, and let them know you're sorry. Maybe even suggest a virtual 'coffee chat.'
If you're writing to someone you don't know well, start with a question to show you genuinely care and offer up some information of your own. "How will you be spending the holidays this year? We're keeping it small here in New Jersey – just getting together with my parents and calling the rest of the family over Zoom." "Did you take any trips this summer? I was really happy to be able to go out to the beach a few times."
3. Sign off with your own touch.
At the end of your email, add something that calls back to the question or comments from your opening. "I look forward to your thoughts and the progress of X project, and hearing about how your son's internship is going."
Keep that personal touch going with your sign off – you're better than 'best.' Make your last words warm and engaging: "Take care," "Warm regards," and "Stay safe" all show a higher level of caring and leave your reader with a pleasant impression.
With that said, I hope you've found this post helpful, and wish you a happy, healthy holiday season.
Many thanks, Allison
By: Allison Barrett