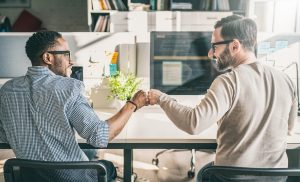 Most communication skills are not about "right" and "wrong." The overall impression you make on others is a combination of many factors, and the frequency of certain behaviors. Here are three language habits that undermine your authority.
Qualifying Language
Sometimes, we can't state things in the absolute, and need to qualify what we are saying. Lawyers are taught never to say, "You will win the case." Financial advisors are quick to point out, "Past performance is no guarantee of future success." Because we must qualify much of what we say, it's important to state with certainty that which you can. Yet too often, we pepper our speech with "kind of," "sort of," "basically," and "essentially," among other words and phrases. All these phrases qualify the integrity of our statements.
If I say, "I kind of like sushi," I'm suggesting I don't dislike sushi, but I wouldn't go out of my way for it.  But if I say at a business meeting, "I sort of think we need to go with plan A," I come across as hesitant, reticent to take a stand, and weak. What does it mean to "sort of think" something anyway? And if I say, "I sort of think we basically need to do X" I'm now three steps removed from taking a stand.
I'm not suggesting you should never use these words or phrases.  I only suggest you use them when you mean them.
Moreover, although many people use these phrases frequently while speaking, some people use "basically" and "essentially" in their writing as well.
The Fix: To minimize the use of qualifying phrases in your writing, search for "basically" and "essentially" in your document and make sure you are using them appropriately.  To minimize your use of these phrases in your speech, slow down.  If you pause between sentences, you will not only seem more poised and in control of yourself, you will be more conscious of your word choice and be able to cull out the unnecessary language.
Filler Words and Sounds
Muttering "um" and "ah" and other hesitancy sounds undermines our ability to sound confident and convey our ideas fluidly. We tend to fill in the pauses, particularly between sentences, because we are uncomfortable with the silence. The pauses between sentences are rarely as long as we feel they are in the moment. In fact, the silence between sentences gives our listeners the time they need to process the ideas we are conveying. We tend to use filler sounds most frequently when looking down at our notes or away from our audience to gather our thoughts.

The Fix: To avoid using filler sounds, only speak when looking directly in someone's eyes.  If you talk only when you are looking right at someone, almost all the filler words will disappear.
Up-Speak
Up-speak is the inflection in our voice that, traditionally, indicates we are asking a question; our voice goes "up" at the end of the sentence.  "Would you like fries with that?" In the last two decades, many people have started using up-speak to end every sentence, undermining the sense of certainty in their speech.
If I ask someone, "Where do you live?" and they respond, "I live in Hoboken," with their voice inflecting up at the end of the sentence, I know they aren't asking a question or uncertain where they live. They are saying "Are you familiar with Hoboken?" or "Have you ever been there?" But if that becomes their speech pattern and they then say in a business meeting, "I think we need to close the deal sooner," with their voice inflecting up at the end, it sounds like they are looking for confirmation, or hedging their bets. Neither result come across as confident.
The Fix: To avoid using up-speak, use clear, sharp, definitive gestures when speaking. If your hand gestures are strong and emphatic, it's more likely your voice will match the power of your gestures, and you will land each sentence as a statement instead of a question. You will sound more confident. The size of the gesture doesn't matter as much as the crispness of the motion, such as a flick of the wrist in a karate chop motion, rather than a gentle pat-on-the-head motion.
In conclusion, your overall impact as a communicator is not based on an isolated instance of what you say or the way you say it. It's based on the cumulative effect of many behaviors – these and others. If you say "sort of" or "basically" two or three times in a long conversation, who cares? There will be little or no impact on your credibility. But if in every sentence there are "um's" and "kind of's" and instances of up-speak, you'll undermine your sense of confidence in yourself and your ideas. So, slow down, only speak when you are looking at people, and use sharp, definitive gestures when speaking.
Originally published on Forbes.com.